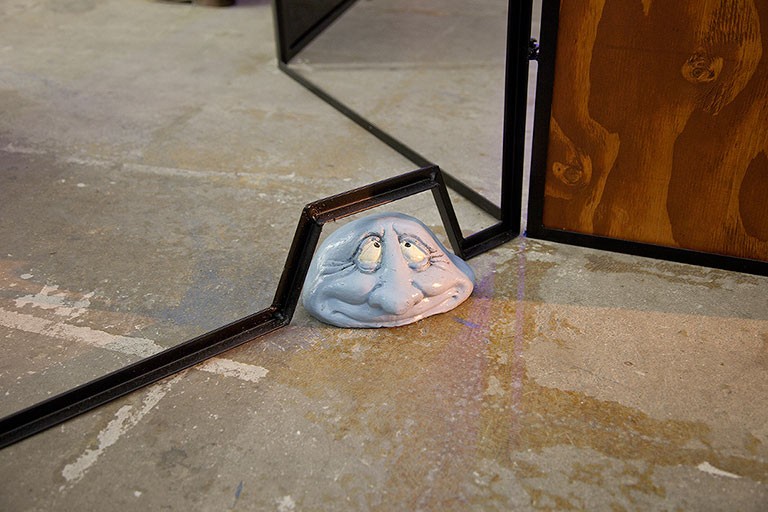 some times in the office of ltd los angeles presents

Chris Dyson
 Transacting Emotion
some times in the office of ltd los angeles is pleased to present a new project by Chris Dyson. The project is comprised of a screen that partitions the space, concrete and menthol crystal sculptures, a bartending performance, and a new sign for some times. Dyson's work acts to both section and frame the space. During the exhibition, visitors will negotiate the room and the works through gaps and apertures they pass through or between. Anthropomorphized stones melt or deteriorate into the ground. An aromatic layer of menthol crystals induces a bodily response, acting as a pharmakon. The effect, often used in contemporary filmmaking, is an involuntary watering of the eyes, a medicinal emotion.
Dyson has claimed his own space of social and economic transaction by referencing the Onion Cellar and overlaying it onto the space of the some times bar. The Onion Cellar, a fictional bar in Günter Grass's The Tin Drum, is a place where patrons purchase onions, cut them, cry, and emote collectively in an attempt to self-manage the traumas of life and war. Dyson identifies this mediation of emotion through shared rituals as a potential critical apparatus employed by both Grass and some times organizer Meghan Gordon. In this context, Dyson's work carries these fictions into our contemporary situation and engages a collective understanding of emotion in our current socio-economic landscape.